Red Scarf Girl
Ji-Li Jiang
Chapters 13, 14, 15, 16, 17 +Epilogue
Risk Taking Researcher
Something that came to mind while I read the book "Red Scarf Girl" was a question, which perhaps some of you have already thought of it, but I decided to dig into it in order to find an answer to it. So basically, my question is the following: What would happen if you were a foreigner residing in China during the Cultural Revolution? Naturally, I Ecosia searched (Ecosia is a search engine that plants a tree in the Amazon after every search) the question and found and article on BBC News titled, "Growing up a foreigner during Mao's Cultural Revolution".
The article is about a man named Paul Crook, whose parents met in China and if you haven't read this article yet, I highly encourage you to, because it gives you another point of view of what it was like in those dark times. Anyways, this man lived through many similar situations Ji-li did, for example, his father was detained for allegedly being a spy and a few weeks after he was, Paul's mother was too. However, based on what I read, I believe that foreigners were treated slightly more kindly because the article stated: "[...] so we could deliver reading material to him or food that he liked." This reminded me of when Ji-li went to visit her father and they didn't let her bring food to him, different from Paul's situation. Not to mention that the article also stated that,
"[...] My parents where never physically abused during the time they were locked up."
While when Ji-li went to visit her father, scars painted his face, thanks to how he was beat.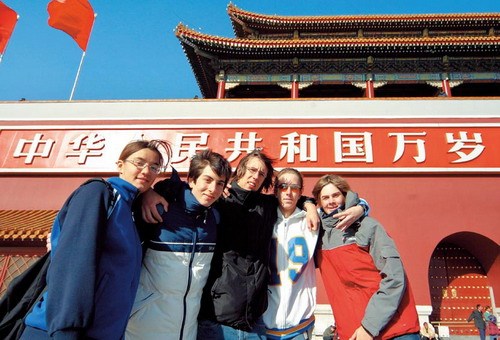 I chose the image above because it shows foreigners like Paul Crook in China and I'd like to guess that this is a foreign family because they all appear to have the same shade of hair and skin tone. Moving on, my conclusion based on what I found was that while Crook's parents seemed to have been treated in a kinder way compared to Ji-li's father, that didn't make his life any easier than hers.
Link to the article HERE